Location: Yekaterinburg, Russia
Architects: Egor Bogomolov, Ivan Gorbunov, Victor Aurov, Daria Papkova
Visualization: Tatiana Kurochkina
Manufacturers: TIM Factory, CENTRSVET, EQUIPE Ceramics, WOW Design, DELO Design, Vitra
Area: 280 sq.m.                                                           
Year: 2021                                                                  
Status: Under construction
​​​​​​​
Золотое Яблоко - крупнейший ритейлер товаров для красоты, родом из Екатеринбурга. Контекст проекта изначально был насыщен источниками вдохновения - Екатеринбург, как промышленный город с богатой историей, связь названия компании с древнегреческими мифами, существующий головной офис, расположенный этажом ниже, со своей атмосферой и особым, индустриальным уютом - все это важно было "смешать, но не взбалтывать". Конечно, мы не могли обойти стороной и основную суть деятельности компании, которая стала для нас своеобразной темой для рассуждений о прекрасном в несовершенстве.
Gold Apple is the largest russian retailer of beauty products, based in Yekaterinburg. The context of the project was initially saturated with sources of inspiration - Yekaterinburg, as an industrial city with a rich history, the connection of the company name with ancient Greek myths, the existing head office located one floor below, with its own atmosphere and special, industrial cosiness - it was all important to "mix, but not shake it up." Of course, we could not ignore the main essence of the company, which became a kind of topic for thought about the beauty in imperfection.
​​​​​​​

Аго́ра́

 (др. -греч. ἀγορά) - п
лощ

адь древнегреческого полиса, место общегражданских собраний, по периметру которого обычно размещали ремесленные мастерские. В планировке офиса эта схема взята за основу – в роли места для собраний выступает блок кухни и переговорных, а на месте мастерских – рабочие места опен-спейса.
The agora (/ˈæɡərə/; Ancient Greek: ἀγορά agorá) was a central public space in ancient Greek city-states, by the perimeter of which usually were placed remedial workshops. This scheme was taken as a foundation for the office layout - a kitchen and meeting room block acts as a meeting place, and open space workplaces represent ancient workshops.
На площади в 280 кв.м. разместилось 36 полноценных рабочих мест, две большие переговорные комнаты, кухонную зону, 4 небольшие ячейки для отдыха и переговоров и спортивную зону. В тамбуре предусмотрен большой гардеробный шкаф, а рабочие места у окон разбиваются небольшими зонами отдыха.
On an area of 280 sq.m. we placed 36 full-fledged workplaces, two large meeting rooms, a kitchen area, 4 small cells for rest and negotiations and a sports area. A large wardrobe is provided in the vestibule, and workplaces by the windows are divided into small seating areas.
Основной акцентный прием, служащий контрастом в монохромном интерьере, это настенные мозаики и барельефы, выполненные в советской технике. Чтобы сделать прием осмысленным, мы связали сюжеты, изображенные на панно, с зонами офиса, в которых они находятся - таким образом над рабочими местами мы видим ударных тружеников, у спортивной зоны - парящих в воздухе гимнастов, а у зоны отдыха - мечтательно бегущих по лесу детей.
The main accent technique that works as a contrast in the monochrome interior is wall mosaics and bas-reliefs made in the Soviet technique. To make them meaningful, we connected the plots depicted on the panel with the areas of the office in which they are located - thus we see hardcore laborers above the workplaces, gymnasts hovering in the air near the sports area, and at the recreation area - children dreamily running through the forest.
Спортивная зона вобрала в себя сразу несколько элементов советского наследия - помимо монументального барельефа, здесь разместилась скамья, вдохновленная классическим спортивным снарядом - козлами для прыжков - и небольшая латунная вывеска, создающая атмосферу перрона станции метро.
The sports zone has absorbed several elements of the Soviet heritage at once - in addition to the monumental bas-relief, there is a bench inspired by the classic sports equipment  - and a small brass sign that creates the atmosphere of the metro station platform.
Центральное ядро офиса - блок помещений для переговоров и отдыха, разделенных кухонной зоной - стал воплощением греческих "философских садов", озелененных кустами, вьющимися растениями, деталями отделки и мебели. Такая обстановка позволит быстро переключиться на отдых и расслабит глаза.
The central core of the office - a block of meeting and recreation rooms separated by a kitchen area - has become the embodiment of the Greek "philosophical gardens", landscaped with bushes, climbing plants, details of decoration and furniture. This setting will allow you to quickly switch to relaxation and relax your eyes.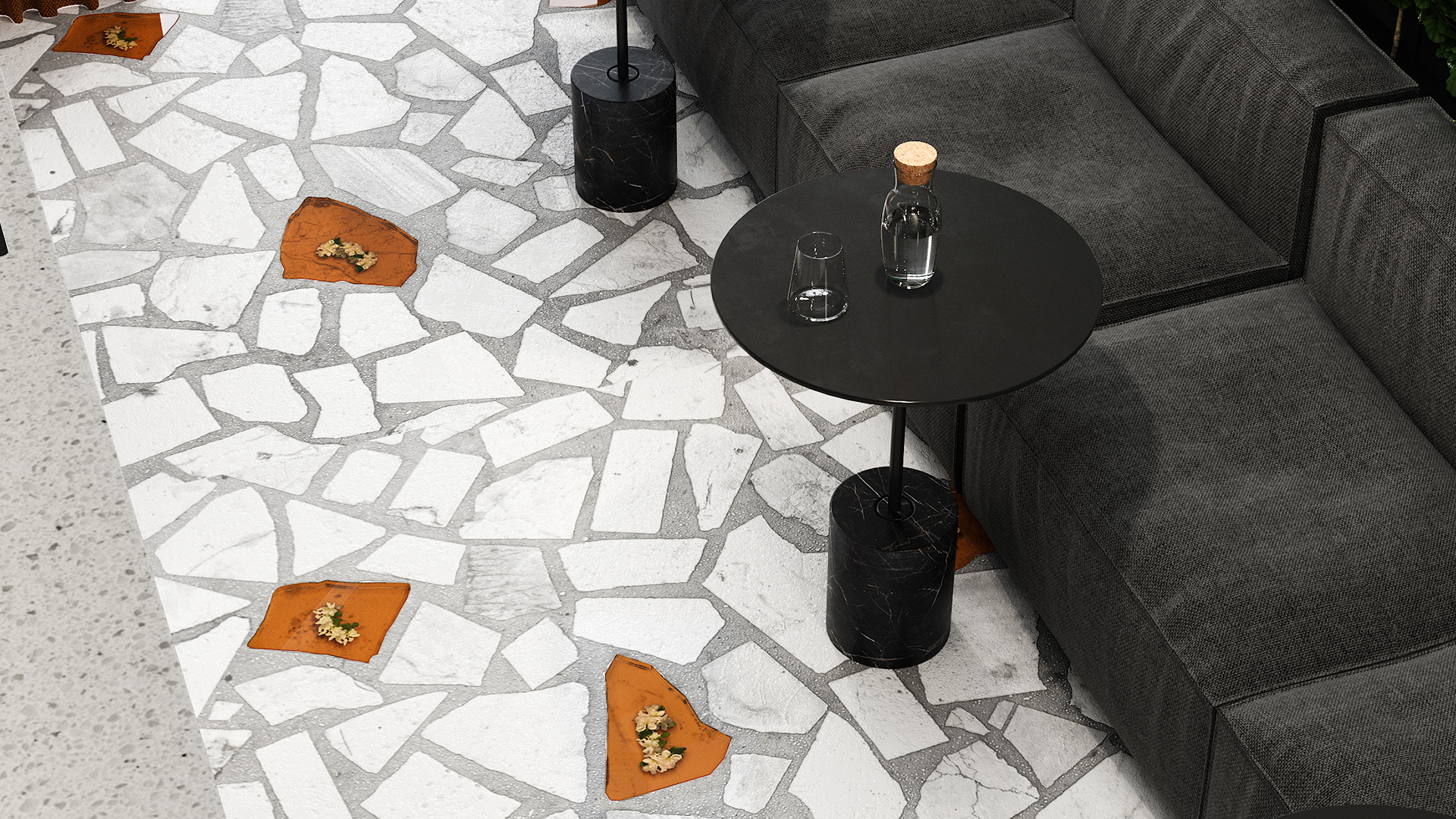 Переговорные комнаты разделяет перегородка из матового полупрозрачного стекла - оно также выполняет функцию доски для письма маркером, это позволило сэкономить площадь и не размещать отдельную напольную доску. Для большей приватности и звукоизоляции с обеих сторон предусмотрены шторы.
The meeting rooms are divided by a partition made of frosted translucent glass - it also works as a whiteboard for writing with a marker - this allowed us to save space, since there was no need to install a separate floorboard. For additional privacy and soundproofing, curtains are provided on both sides.

Мы любим заимствовать функциональные элементы и технологии из разных сфер - так на раздвижных дверях переговорных появились ручки с беспроводной кнопкой открывания, активирующей скрытый механизм в верхней части двери. Подобные кнопки вы наверняка встречали в поездах метро или на дверях троллейбусов в своем городе.
​​​​​​​
We love to borrow functional elements and technologies from different spheres and industries - this is how handles with a wireless opening button appeared on the sliding doors of meeting rooms, which activates a hidden mechanism at the top of the door. You have probably met such buttons on subway trains or on the doors of trolley buses in your city.